At Hemlock Hollow We Believe
That all animals should be treated with respect and kindness.
Training should use gentle methods and positive reinforcement.
Training should be fun, and a journey the entire family should enjoy towards having a wonderful family companion for years to come.
I will be taking time off from teaching group classes the winter of 2014/2015, but will continue to work privately with families to reach their goals with their dogs in their homes. Group classes will restart Early Spring 2015. Please feel free to contact me if you need help in finding a trainer using humane methods in your area. Thank you everyone and Happy Training!!
---
It's Here! "A Puppy's Journey, adventures in training & socialization"
The new book by Chris can be ordered here.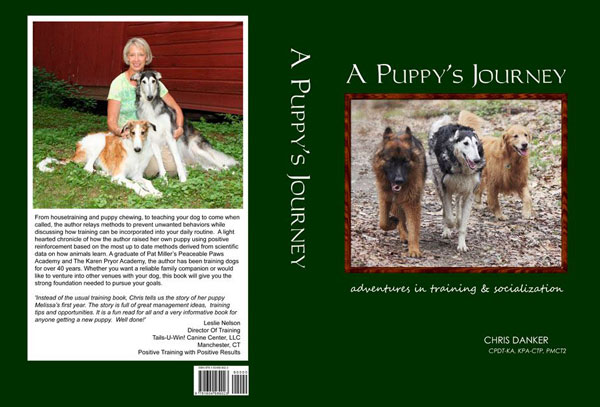 "Instead of the usual training book, Chris tells us the story of her puppy Melissa's first year. The story is full of great management ideas, training tips and opportunities. It is a fun read for all and a very informative book for anyone getting a new puppy. Well done".
Leslie Nelson, Director of Training, Tails-U-Win Canine Center, LLC, Manchester, CT